Thank you all that joined us for the Family Fun Day!
Here are the pictures of this amazing event held on the 15th of May 2022!
Don't forget to follow us on our Facebook page!
Your tenancy passport
Rental Readiness was developed to help those who are struggling to enter the competitive rental market in Canberra.
The course was designed to teach all the steps for applicants to succeed and find their perfect home. The course will teach you where to start, how to get ready to apply, what to do when you are moving in, what to expect during your tenancy, how to get support, how to deal with disputes and what to do when it's time to move out.
To learn more, contact us
T 02 6248 7716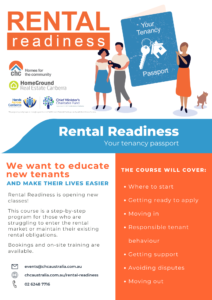 This program is proudly supported through a grant from the Chief Minister's Charitable Fund in partnership with Hands Across Canberra
02/05/2022 Update:
We have filled all the spots available and will no longer be accepting applications.
Keep tuned for our other events and news on the link below.
Thank you! 
COVID-19 affected us all in many ways, especially when it comes to our social life. We had to discover different ways to have fun and connect with our friends and our community, which was challenging, but we have learned how to be safe around others and to enjoy with care. Events are back on and we miss you, guys!
It is time to get together and celebrate our lovely community!
CHC prepared an amazing event and we hope you are just as excited as we are to meet up, enjoy some great food and have a blast with all the fun attractions available.
It is going to be amazing and completely free for those who register!
Date: 15/05/22
Time: 10 am to 2 pm
Where: Yarralumla Play Station
Address: 9 Pescott Lane – Yarralumla ACT 2600
Free Food and drinks: Burgers (Cheeseburger, Chicken Burger and Veggie Burger), Hot Chips and refreshments
What will be available?
1 Train Ride
1 Round of Mini Golf (18 holes)
1 Mini Farm ticket
Face painting
Balloon sculptures
Door prizes
CHC will provide hand sanitisers. If you or any of your family members feel unwell on the date of the event, we kindly ask you to not attend. Protect yourself and protect our community.
Spots are limited, so apply now to secure yours!
Registrations will be accepted until the 1st of May, or all spots are filled.
29/01/2022 Update:
We have filled all the spots available and will no longer be accepting applications.
Keep tuned for our other events and news on the link below.
Thank you! 
—
The Ken Horsham Scholarship is an initiative to assist CHC and HomeGround affordable tenants to achieve their study goals. The late Ken Horsham was a founding director of CHC and served in various roles from 1998 onwards, including Chair of the Board of Directors. Ken had a strong interest in progressing his community and a passion for social justice and it is in this spirit we are pleased to honour him with this scholarship.
How much is the scholarship?
The scholarship fund is $5000 and each student can apply for a value up to but not exceeding $1000 to further their education. Successful recipients may only receive one scholarship per year.
Who can apply for the scholarship?
You are eligible to apply if you:
are a current CHC/Affordable HomeGround tenant
have been CHC/Affordable HomeGround tenant for at least three (3) months prior to submitting your application
are over 16 years of age at the time of submitting your application, and
can provide proof that you are currently enrolled in study in a part or full-time study
How long do I have to apply for the scholarship?
Applications open Friday, 10th December 2021 and close at 5 pm on Monday 28th January 2022. We cannot accept late applications.
How can I apply for the scholarship?
Please fill out the application form which is located here:
CHC KenHorshamScholarshipApplicationForm 20212022
Where can I learn a bit more?
You can download and read the Ken Horsham Scholarship Applicant Factsheet 2021/2022 which has more information or email events@chcaustralia.com.au
To return your completed form, you may:
email it to: events@chcaustralia.com.au
                     
24/01/2022 Update:
We have filled all the spots available and will no longer be accepting applications.
Keep tuned for our other events and news on the link below.
Thank you! 
—
In partnership with Parasol, the "Heartbeats" First Aid Program is an opportunity for tenants to obtain for free a nationally recognised cardiopulmonary resuscitation statement of attainment on completion of the course. A requirement of enrolment is you must have a Unique Student Identification (USI).
Don't miss out, register now! Spots are limited and all applicants will receive an e-mail confirming the outcome of their expression of interest.
DATE: Sunday 6th February 2022
TIME: 9.30am – 1 pm
VENUE: Gungaderra Homestead
ADDRESS: Mapleton Avenue, via Otway street for parking
Applications close at 5 pm Saturday, 22nd of January 2022!
Registration Form – Heartbeats First Aid Course
We are offering tenants an opportunity to attend a free car maintenance workshop delivered by Autoco. This is a great opportunity for car owners to be empowered with basic mechanical knowledge, covering the following key components:
1. Learning about tyres, including checking and changing them.
2. Getting under the hood and checking water, oil, coolant etc.
3. Preparing your vehicle for the worst-case scenarios.
This will be a friendly learning environment, run by experienced mechanics and technicians.
When: Saturday 12th  February 2022
Time: 9.30 am – 12.30 pm
Where: Autoco
Address: 133 Flemington Rd, Mitchell ACT 2911
Spots are limited and pre-registration is a must!
Participants must be 16 years or older and wear comfortable clothing and closed footwear. All attendants will receive an Autoco goodie bag as a participation gift.
We will have a Coffee van providing a free cappuccino on your arrival and light refreshments will also be provided during the course.
Please complete your registration form found below and return it to events@chcaustralia.com.au by Wednesday 9th February 2022.
Registration Form – Autoco Mechanical Workshop
13/01/22 Update:
We have filled all the spots available and will no longer be accepting applications.
Keep tuned for our other events and news on the link below.
Thank you! 
—
CHC is offering a three day School Holiday Program with B.Firm these holidays in a COVID safe environment under the supervision of Lee Campbell, a personal trainer who specialised in obstacle races and is known for being one of the best contestants in the Ninja Warrior TV Show.
Spots are limited, so apply now! All applicants will receive an e-mail confirming the outcome of their expression of interest.
Who can apply for the B.Firm School Holiday Program?
You are eligible to register your child if:
you are a CHC / HomeGround tenant
your child is between 5 and 12 years of age
your child can participate during the three consecutive days of activities
You can register all the children of the household, as long as they meet the criteria listed above. Please, fill in one form per child. In case your child has any medical condition that requires medication, you are responsible to inform the B.Firm staff on the first day of activities and the medication must be provided to them.
What will your child be doing?
During three days, participants will engage in fun outdoor activities, working in groups to overcome obstacles, run, climb, play, get muddy and have lots of fun!
When?
Dates: 17th, 18th and 19th of January 2022.
Schedule:
Drop off: 9:00 – 9:30 AM
Pick-up: 3:00 – 3:30 PM
What to bring:
A bottle of water,
Lunch + morning and afternoon snacks for each day,
A change of clothes and shoes to get dirty.
Everyone will receive a T-shirt as a participation gift.
B.Firm provides water and can provide shoes for the kids, if necessary.
To learn more about B.Firm, you can access their website, or watch this video showing some of their activities here.
Applications close at 5 pm Thursday, 13th of January 2022!
BFirm School Holiday Program EOI Form
*** Please be aware that registrations have closed as all available spots have been filled.***
We will host another opportunity in the New Year for those who have missed out!
Please stay tuned as the announcement will come via email early in January 2022.
CHC is hosting an opportunity for a limited number of families to have a special family portrait photoshoot.
The photoshoot location will be within the picturesque woolshed, at Gungaderra Homestead.
Participants will receive one professional photo of your family, which will be sent via email for you to print, make copies, send to your loved ones, etc.
Because spots are limited, priority will be given to those who register first. Don't miss out, send your registration form as soon as possible.
Registrations will be open until the 6th of December or until all spots have been filled.
Participating families will be contacted and provided with their allocated time slot and any other relevant information.
Date: Saturday 11 December 2021
Time: You will receive an allocated time slot, between 10 am and 3 pm. Please, arrive 15 minutes prior to your booking.
Where: Gungaderra Homestead, Mapleton Avenue, Harrison. Best parking via Otway Street.
Please, contact Mataina on 62487716 or email events@chcaustralia.com.au if you need further information.
Calling on all CHC and HomeGround Children!
CHC would like to invite tenant children aged between 5 – 12 yrs to enter our Kid's Competition in celebration of Children's Week 2021.
The winning entry will receive a family pass to the National Zoo and Aquarium!
Every other entry will win a small prize!
How to enter?
Show us a photo or illustration depicting:
"How do you like to help your family or community?"
And provide a short description (no more than 25 words) as part of your registration form of why your photo or picture fits the brief.
Download registration form here: Registration form (002)
Competition opens: Monday 11th October 2021
Closes: Friday 29th October 2021
Winners will be notified by Friday 20th November 2021.
Terms and Conditions:
One entry per child
Child must be between ages 5-12 years of age
The child must live at a CHC or HomeGround Real Estate Canberra managed property
All entries must have 1 registration form and 1 photo/drawing submitted
All registration forms must include a written description
All entries must be received by C.O.B on 29th October 2021
SPARK Ginninderry and Canberra Institute of Technology proudly support training and employment initiatives for local people.
SPARK in partnership with the Canberra Institute of Technology (RTOcode:0101) are delivering an innovative accredited training program focused on giving participants a "taste" of different skill sets within the Information Technology sector.
Specifically targeting people living within the Australian Capital Territory, this program on successful completion will provide participants with the following units of competency in the Information Technology sector:
» ICTWEB414 Design simple web page layouts
– Scope web page requirements, create and implement web page designs
» ICTICT303 Connect internal hardware components
– Acquire, install, configure and evaluate system hardware components according to client and user requirements
» ICTWEB201 Use social media tools for collaboration and engagement
– Review, compare and use different types of social networking tools and applications
» VU21990 Recognise the Need for Cyber Security
– Recognise threats, risks and vulnerabilities to cyber security in an organisation
For more information check out the flyer in the link below
SPARK JobTrainer Ginninderry Information Technology Taster Program – Enrolment Session Thurs 15 July 2021