Your tenancy passport
Rental Readiness was developed to help those who are struggling to enter the competitive rental market in Canberra.
The course was designed to teach all the steps for applicants to succeed and find their perfect home. The course will teach you where to start, how to get ready to apply, what to do when you are moving in, what to expect during your tenancy, how to get support, how to deal with disputes and what to do when it's time to move out.
To learn more, contact us
T 02 6248 7716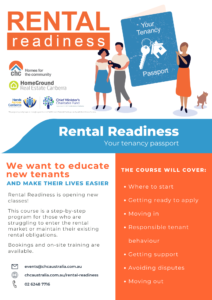 This program is proudly supported through a grant from the Chief Minister's Charitable Fund in partnership with Hands Across Canberra